Everything you need to know about Baby Wearing...!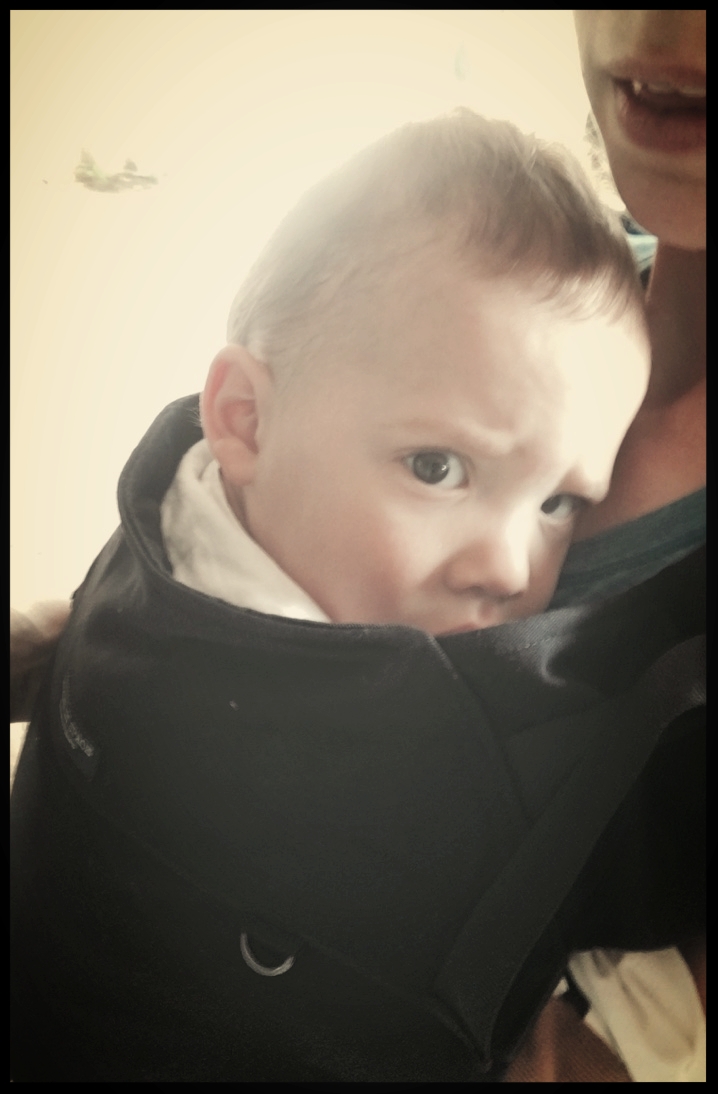 I am a bit in love with Baby Wearing. I didn't know anything about it when I was pregnant, like what the different options were, when I would utilise it versus the pram, what the safety implications were. Little did I know, a stretchy wrap loaned to me by a friend would be my absolute saviour in those early months when Benji wouldn't sleep unless being held. Little did I know, that when Benji started teething and my wrists and shoulders were absolutely wrecked from cuddling a 10 kg baby who didn't want to be put down, that my Ergo carrier would be the only way I could relieve the load on my joints. 
Now, I get lots of questions from the pregnant ladies in my Bump&Me classes about what slings and carriers I use, and I've been keen to do a blog post with an expert on the topic for a while. It was the purchase of a new, bigger carrier for my very heavy Benji (the one in the photo is from a brand called Babies In Space and I love it!), and wanting to learn how to safely use it for back-carrying, that prompted me to finally get in touch with the lovely ladies at Baby Wearers Western Australia (BWWA) about an interview. 

Since Benji was born (nearly 11 months ago now!) I have signed up to be a member of many groups, both on Facebook and in 'real life', but BWWA with their Facebook page to answer questions, their regular local meets, and their libraries to borrow before you buy, has definitely been one of the most helpful and supportive.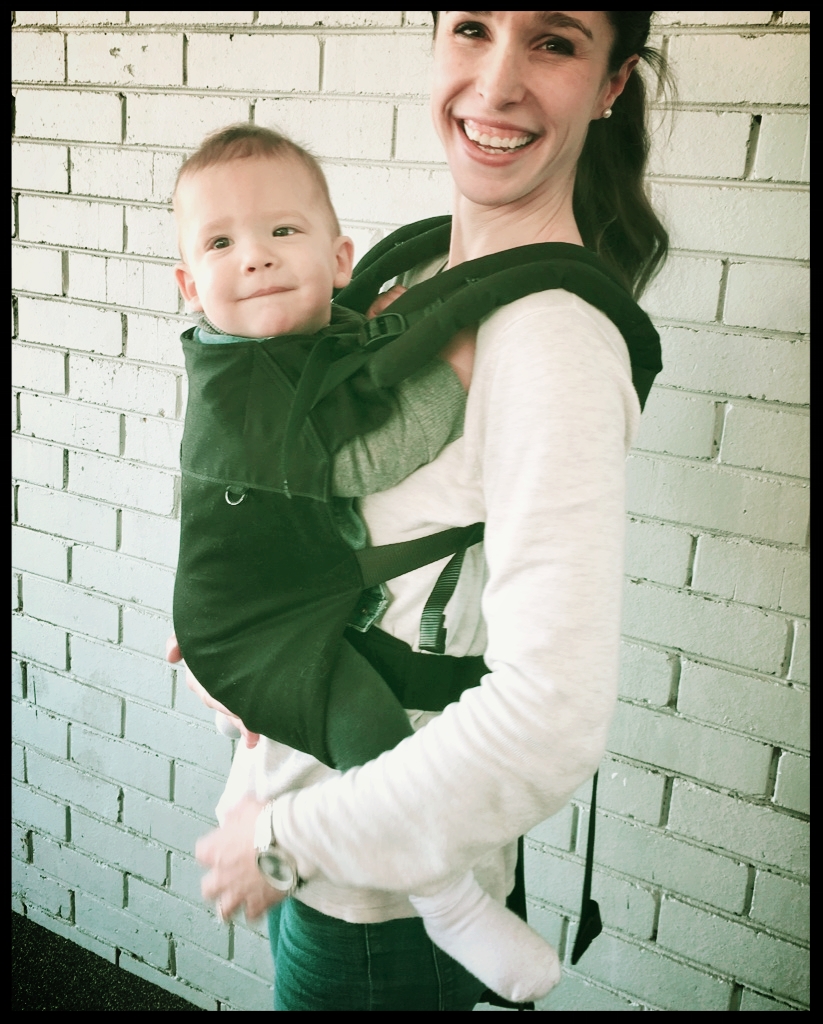 Hello Victoria! What is your background and how and when did you come to be involved in Baby Wearers WA group?
I became involved when my first and only child was born 3 years ago.  I'd previously bought a woven wrap and was desperate to use it as my son had horrible reflux as well as colic and was impossible to settle.  The meet leaders and other parents were so welcoming and helpful, and babywearing was such a perfect parenting tool for me, that I came back again and again!  Almost 3 years on and those women are now some of my closest friends.  I joined BWWA as a meet leader mid-2016 and as a committee member towards the end of last year and haven't looked back! 
What are the benefits of baby wearing in your opinion?
In my experience as a parent of a child who needed constant contact and very specific conditions to be calm and content as an infant and still needs lots of physical reassurance (and, let's face it, someone to carry him around when his legs get tired!), baby wearing has been a lifesaver for me and my family.
It's not just parents of unsettled babies who find babywearing helpful, though! Babywearing has been proven to increase the likelihood of a successful breastfeeding relationship, increase bonding between a parent (or grandparent or carer!) and his/her child (especially premature and reflux babies), and decrease the time an infant spends unsettled or crying in a day which, in turn, decreases the risk of post-partum depression and related mental health difficulties for both mum, dad, and baby. Wearing in a carrier that encourages healthy hip positioning (with baby's legs in the M position) also has been shown to be beneficial for children with or at risk of developing hip issues.
And one of the biggest benefits: convenience! When babe just wants to be help but you have other tasks or children to attend to, babywearing can help! Or if you want to get the shopping or a beach walk done without a bulky pram, babywearing can help there too!
For someone who is completely new to baby-wearing, can you give a summary of the different options that people have - for example, stretchy wraps, versus firmer wraps versus structured carriers etc?
The carrier you choose is completely dependent on your lifestyle and needs. 
Most new parents will choose a buckle (or soft structured carrier) carrier that has a buckle around the waist and one on each shoulder strap.  There are many different brands and varieties, but we prefer ones that do not require any infant inserts (used until baby is 6 months or big enough to sit in the panel comfortably).  These carriers are quick and convenient and do not require a lot of learning, which is a plus when you've got so many other things to learn about already!
Meh dais are similar to buckle carriers: they have a panel for baby to sit in but instead of buckles, they have straps that are tied around the wearer.  Some find these carriers more fiddly but I have found that they fit a wider range of parents and children comfortably as there is greater adjustability. I especially recommend meh dais for parents of newborns as perfect fit is so important to decrease the risk of obstructed or obscured airways via slumping or suffocation (you should always be able to see your baby's face while wearing).
Many new parents also opt for a stretchy wrap. These are handy as they are able to be pre-tied and stretch to accomodate baby being taken in and out. The main cons to these is that many brands can be hot in summer, they tend to become uncomfortable with babies bigger than 5 or 6 months old, and they cannot be used for a back carry.
Woven wraps come in an incredible array of fibres and lengths that can be overwhelming to new wearers. Howver, once learned to use correctly, woven wraps are very versatile (can be used for many types of carries with many ages of child) and can be adapted to suit the optimal comfort of carer and child. These tend to be cooler than stretchy wraps.
Ring slings are slings made with a length of woven fabric and two metal rings.  These are excellent for a quick, easy carry, especially in warm weather as there is a single layer of fabric over both baby and carer. These can be tricky to get right at first but provide a really nice carry when fitted correctly! These are one of our most popular carriers.
What would be your top tips for parents who are pregnant or have a newborn - how do you know where to start when choosing a carrier or sling that suits your personal needs?
Come along to a meet (details on our Facebook page or contact us as info@babywearerswa.com.au)! We often have pregnant mothers and their families come along to try on carriers with a dolly to get a feel for what will be comfortable and practical for them when baby arrives! It's also great to chat to other wearers about what worked for them. There are also a multitude of Facebook groups such as our page 'Perth Baby Wearers' where questions about carriers are asked all the time! We are always happy to answer questions or help where we can.
What are the safety issues that baby-wearers need to be informed about? 
Safe babywearing is so important! We always follow the TICKS guidelines:
T  is for Tight. Baby and carer must be secure in the carrier and there mustn't be any room in the panel for baby to slump. This is important for both the carer's and child's comfort as a too-loose carrier will pull of the wearer's back and neck.
I is for In View at All Times. The carrier or clothing should never be such that you cannot see her face. You must be able to see baby's face always to ensure that she is comfortable and her airways are never obscured.
C is for Close Enough to Kiss. You should always be able to tip your head forward and be able to kiss baby's head. This enables close supervision of baby's breathing.
K is for Keep the Chin Off the Chest. Baby should never have her chin touching her chest as this will cause her delicate airways to fold and become blocked. You should be able to fit at least one finger under her chin.
S is for Supported Spine. Baby must always have his tummy pressed to you with his spine well supported to ensure healthy spine development and that he will not slump into the carrier and close off his airways. Because of this, we recommend always carrying tummy-to-tummy and never in a cradle carry.
What are the main issues to be aware of when baby-wearing regarding the baby's musculoskeletal development (i.e. their hips, their spine, their neck muscles etc?
We recommend that baby has only one layer of woven wrap over their back until they can get himself into a seated position to support ideal spine development. Also, where possible, a carrier that supports baby's legs from knee to knee in the M position (with knees higher than bum) is used (most important for babies under one who are at risk of developing hip issues) should be used. We also recommend that wearers avoid back carries until baby can get himself into a seated positions to ensure that he has enough core strength to support himself in a safe position and to ensure that the carrier is recommended for and fitted correctly for back carry.
What are the main issues to be aware of when baby wearing regarding ergonomics - how do we look after our own backs and necks and how do we know if our carrier is set up correctly for us?
This is so important! We always recommending loaning a carrier from one of our libraries before purchasing as it is the best way to know if a carrier will be suitable for you in the long run. An added bonus of this is that a meet leader will be able to show you how to fit your carrier correctly for an optimal fit.
It often takes wearers a few times to feel absolutely comfortable in a new carrier as areas of muscle that were previously not under so much pressure are suddenly being used. We recommend only carrying for short times during this period, especially as new mothers' bodies are still adjusting to having baby on the outside! After that adjustment period, the carrier shouldn't hurt or be uncomfortable anywhere. It often takes our members a few carriers to find a style they really like and there are features such as wrap straps that spread across the back or waistband styles that can really improve the comfort of a carrier.
Any further tips on how to seek help and support in our baby-wearing journeys?
Come to a meet, visit our FaceBook page 'Perth Baby Wearers', or contact us on our email! We have meets all over WA and we and our members are always happy to welcome and support a new wearer! 
A huge thank you to Victoria for her time and help!