Benji&Me - The First 6 Weeks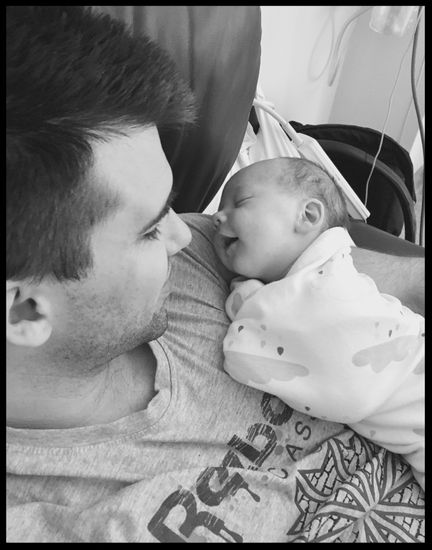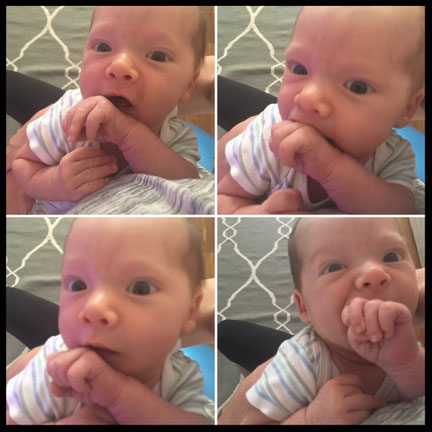 Whirlwind Times...
My beautiful little Benji Button is 6 weeks old already…! That sounds like I think that the first 6 weeks have flown by – they most definitely have not. I actually feel like I already can't remember a time when he wasn't in our lives, I can't remember what it's like to sleep longer than a couple of hours at a time, I can't remember what it's like to not smell like baby vomit, I can't remember what it's like to not have a little person completely and utterly dependent on me.
Early motherhood is a whirlwind, definitely the most difficult thing that I have ever gone through, but also the most beautiful. I think that the thing I've loved most is being able to finally share him with my husband. I have felt slightly selfish through the pregnancy that I was the one who got to feel his movements and have him with me at all times. Now there is nothing more lovely than to watch him in my husband's arms, looking up at his Daddy, both of them forming those special early father-son bonds. There's still obviously the increased time I have with him while I breastfeed, but it's lovely that I have been able to express milk each day so that Byron can do the first evening feed while I sleep, and get that bonding experience too.
Sleep (Or Serious Lack Of It)
So although I am vaguely aware that there are some newborns that sleep six hours or more at night, my Benji decided after his first two weeks of sleepiness that 20-30 minutes or less is the maximum he would go, day or night, unless he was held. And he wanted the boob pretty much two hourly at all times of the day and night. This means that I need to try and nap for an hour or so anytime a family member is free to hold him between feeds, and my husband does the evening shift until about midnight, and then Mummy just doesn't really ever sleep from midnight onwards... I felt like a bit of a fraud putting up my Instagram posts on return to exercise, with smiling pictures of my morning river walks with Benji. Although I appreciated comments such as 'you're doing so well!', I really wanted everyone to know that the reality was that those morning walks followed 7 hours of no sleep. Yes, I was doing well and of course I am madly in love with my baby boy, but it's never as perfect as Instagram can make it seem!
Closer to 6 weeks, we have had some small break throughs - the first time Benji settled himself on his mat, the first time he settled in his cot, the first time he slept for longer than an hour without being held, the first time he went more than 3 hours between feeds (being held!). Small victories, but they make me see that there will be a light at the end of the tunnel. 
One day I will look back and miss the fact that Benji wanted to be in my arms 24/7, I'm sure. With the help of my sister, Mum and Nana, who all also had alert, unsleepy babies, I'm realising that 'this too shall pass', this is my job at the moment and it doesn't matter if I don't get other things done in the day. Maybe I should even feel sorry for those with super sleepy newborns that they don't get to spend as much time with their babies... (Ha, clutching at straws perhaps?!)
Nothing Scarier Than a Sick Baby
We have had a really scary experience over this first 6 weeks. When Benji was 4 weeks old, he suddenly went four hours between feeds without waking up. I did a little celebration dance, left him in the swing for two hours (which he was tolerating for the first time ever) and tidied the house! I then had to rouse him to feed, and when this happened a second time I started to vaguely worry and think that maybe it wasn't just him finally becoming a good sleeper. I took his temperature in the early hours of the morning when he refused the breast and it was 38.5 degrees. With no experience in newborn health, I messaged my sister-in-law who is a doctor, and she confirmed that I needed to take Benji to the emergency department immediately.
Benji went downhill very quickly over the next few hours at the children's hospital, becoming lethargic and pale and not feeding very much at all. The poor little mite then spent the day undergoing multiple invasive tests – suprapubic catheter, IV cannula (which then had to be redone almost 20 times over the next few days because it kept dislodging), ultrasounds, X-rays and (the worst) three lumbar punctures because the first two failed. He went from screaming in pain with each procedure to being limp and lethargic again. By that evening, my poor husband had arrived from Kuala Lumpur after rushing back from a work event, and the doctors confirmed to us, the shattered parents, that Benji had an enlarged right kidney and ureter, which led to a Staph Aureus infection in his urinary tract, which had then spread to his blood. This meant two weeks of IV antibiotics through a long line cannula, and will in future be followed by further tests on the bladder and kidneys and very probably surgery to fix whatever caused the backflow of urine.
So, in retrospect, poor little Benji's unsettledness could definitely have been due to him being in significant pain from the urinary tract infection, which absolutely breaks my heart. Why can't these newborns come with a manual? Or a secret language so that they can tell you what's wrong? I can't believe that I tried so hard to teach Benji how to settle and sleep when he was so unwell.
Caesarean Rehab
So, as well as caring for an unsettled, and then extremely unwell, newborn baby, I have been trying my best to continue to rehabilitate myself from my surgery. I am trying to practice what I preach, and aim for the following in the first six weeks post Caesarean:
Core Muscle Rehab

Early core exercises should involve diaphragm breathing while activating the pelvic floor and lower abdominal muscles. They can be done in static positions to start with (lying on your back, sidelying, sitting on a fitball, standing up leaning against the wall, etc), and should progress to be with movements such as pelvic tilting or squats. These should ideally be taught by a physio, as they can easily be done incorrectly, but keep an eye on my Instagram posts for some ideas and examples.
Low Impact Cardio
For the first week or so, I deliberately held myself back and only walked around the hospital room and the house, and in the second week I walked around the block on a few occasions with my husband pushing the pram. I was careful to monitor my body's response and then adjust how much I pushed myself the next time accordingly. The last thing I wanted was to cause pain and/or damage at the suture line, which I have seen happen in other women before. 
Between week 3-6 (in amongst hospital visits!) I slowly built up my walking distance from 15 minutes to 45 minutes, and slowly increased the speed and whether or not I added in hills and stairs with the pram or baby carrier. I monitored how the scar felt, and a couple of times it was sore afterwards so I cut back the next time I exercised. If I had given birth vaginally, I would have been monitoring vaginal symptoms like heaviness or pain to know if I'd done too much. 
Optimal Posture
This was my main focus in the first weeks - optimal posture with feeding, pushing the pram, and most importantly when holding Benji. It's so easy to lean back from the hips when jiggling Benji to settle him, but this switches off the good supporting muscles and makes you hang passively off your joints, putting them at risk of overload and pain. I have been very careful about optimal wrist position too, as I've seen so many mothers quite debilitated with wrist pain in my line of work. These are things that I will post photo examples on Instagram in the near future, so keep an eye out. 
Stretching
This has been my saviour - I have tried very hard to spend at least 10 minutes each day stretching while someone else is holding Benji, or I do it on the bedroom floor in the dark while I'm attempting to let Benji settle himself in his basket at night! See the pregnancy stretching sequences on Instagram, this is what I've been doing.
Scar Tissue Rehab
When I got to 3 weeks post Caesarean, I decided that my scar was well healed enough to begin regular massage. So every morning in the shower, I've been using some shower oil with my thumbs to massage along the scar in an up/down motion, then a side to side motion, then circles in both directions along it, and then approximating two points together and pulling them gently apart again. I will video this in the future too, and write an article about Caesarean scar rehab.