Bump&Taryn - Weeks 26-32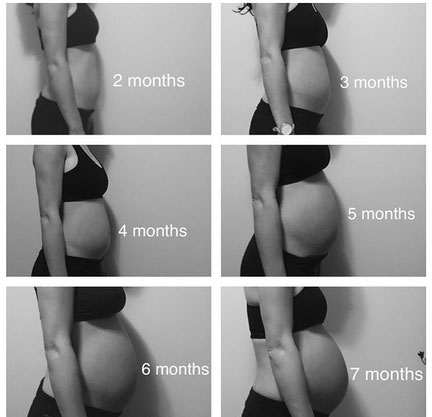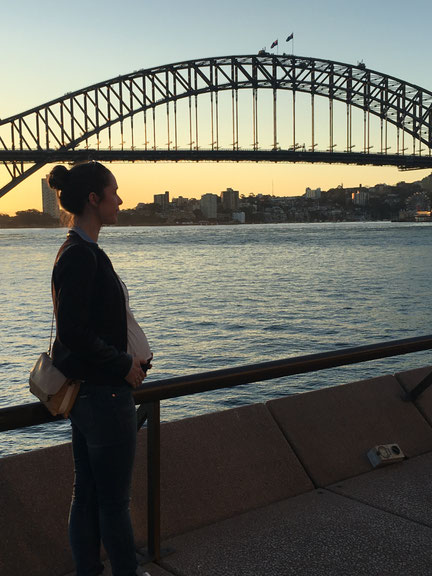 Feeling Very Pregnant...
32 weeks already! I'm getting to the point where my mind is starting to think 'I guess the baby could be born any day now' – which I know is very unlikely, but fuelled by a few close friends who've given birth between 33-36 weeks. Dangerous thinking though because Murphy's Law is that I'll go over my due date and still have 2 months or more left of growth!
I'm also getting to the point where I am OBVIOUSLY pregnant, and strangers are commenting! I was very interested this week to read a colleague's Instagram post about #bumpshaming and how people feel that they can comment openly about how big or small a pregnant woman is for their stage of pregnancy. See my Instagram post about my growth (photo supplied here!) and on increasing awareness about the potential insecurities a pregnant woman might have about the growth of their unborn baby. 
I've spent this blog reflecting on the more recent pregnancy changes that I've been experiencing, and how amazing it is that hormonal differences mean that body changes can happen well away from the growing uterus. Bleeding gums, constipation and migraines… am I making pregnancy sound enviable and glamorous?!
Getting Prepared
The cot is built, the feeding chair is set up and the pram is selected (and bought on Frequent Flyer points, possibly the only upside of having a husband who has been working in Sydney for the majority of the past couple of months!).
And like any good physio, I have checked the ergonomics of all three to protect my postnatal spine! I am pleased to report that I can get a pretend baby out of the cot with a neutral spinal position, I can get the pram in and out of the car with limited effort, and I can get up and down from the chair without using my hands or abdominal muscles. This last point is very important and something I know a lot of expectant Mums don't necessarily consider when choosing a feeding chair. If my hands are otherwise occupied (which they no doubt will be 99% of the time!) and I'm avoiding using my abs because of a recent Caesarean scar, ongoing abdominal muscle separation, or both, how would I get up from a reclined chair? The chair I've chosen is upright enough to allow my legs to be in a position to get me up and out of the chair, and I've seen some good recliner and rocker chairs that can get you up to this position too. We all need to try these tasks beforehand with a pretend baby!
Now the only thing left to do in the nursery is paint the feature wall, which I have optimistically decided that I can do as a mountain theme... Ha! I'll let you know how my lack of artist talent and I go with that one!
The other thing that has required 'preparation' is trying to work out what courses I need to book into before this baby arrives. Even though I'm lucky enough to have worked in obstetrics for almost 10 years, it has still surprised me that I haven't been given a 'Dummy's Guide To Pregnancy' by anyone - and what if I didn't realise I was supposed to do a certain course or a certain test before a certain stage of pregnancy?! Here are the courses that I have nutted out seem to be worth doing in these last 10 weeks or so...
1. Antenatal classes - usually run by a midwife either privately or at the hospital you're delivering at. These classes go through information about vaginal and caesarean births, and an introduction to breastfeeding, baby care and bonding in the early days and weeks. 
2. Preparation for Labour classes - unlike the Antenatal classes, you wouldn't attend these classes if you knew you were booked for a caesarean section. These classes are usually run by physiotherapists or doulas, and go through positioning for first and second stage of labour, and how to use movement, breathing, visualisation, massage and more to best manage the pain. These classes seem to be almost more important for the birthing partner so that he/she feels confident that they will be useful during labour. I don't know a lot about hypno-birthing but I believe this is an alternative way of learning this information about drug-free pain management during labour.
3. Paediatric First Aid Classes - these seem to be run either in one or two 3 hour blocks, and can either be done in the community or you can organise them in your home if you have 8 people or more. They go through what to do in a situation where a baby is choking, has been poisoned, is having an allergic reaction, has been burned, requires CPR, and more.
Others I'm yet to look in to include breastfeeding courses and baby-wearing courses - I'll keep you updated!
Changes Galore!
So we all know about the obvious physical changes in the abdomen and pelvis that occur in pregnancy, and I've been very aware working as an obstetric physiotherapist of the changes in joints, muscles and connective tissue as well - due to both the physical stretch on these structures and the hormonal changes affecting them.
But what about other changes far away from the uterus? How strange is it to realise how far-reaching the effects of the pregnancy hormones are? One hormone in particular, progesterone, has a wide-reaching effect on the body because of it's role in relaxing smooth muscles (the involuntary muscles of the body). 
What I've been noticing is that progesterone is having an impact on my blood vessels - my blood pressure has been normal on the few times that I have had it checked in pregnancy, but I am very aware that it must be dropping slightly when I stand still in one place for too long. I seem to be getting slightly dizzy and light headed, especially in crowded or warm environments, if I am standing still for longer than a few minutes, due to the relaxation in my veins and therefore the decreased ability for my body to get the blood circulating efficiently from my legs back up to my heart and head. This is why in FitRight Bump&Me classes, the FitRight Pregnancy DVD and if you are exercising at home, we recommend limiting static arm work in standing (however add in squats or calf raises at the same time and we are all good!).
This is a weird one - my gums bleed every time I clean my teeth! I looked this one up and it's also due to progesterone apparently increasing inflammation in the gums. 'Pregnancy Gingivitis' - lovely.
Another glamorous one - progesterone causes relaxation of the smooth muscle in the gut, often contributing to constipation (the iron in pregnancy multivitamins doesn't help either!). I'm trying to practice what I preach and combat this with increasing soluble fibre in my diet (porridge for breakfast, or psyllium husks in my smoothies work for me!), being active in the mornings with a walk to get the gut moving, and drinking 1.5-2L of fluid per day. I know many people also require a supplement of some kind, but I would advise trying fruit, veggies, dried fruit, chia, psyllium, or oats first as these work for many people without needing artificial help. I've also bought myself an Ikea stool to put my feet up on when on the toilet! Leaning forward with knees above hips is definitely best! And breathing out to avoid breath holding and straining is important too. I know many women who have ended up with haemorrhoids and anal fissures in pregnancy - try and combat this as early as possible!
Migraines - this is one that I had no idea about, but apparently the increase in oestrogen during pregnancy can increase your risk of developing migraines (along with stress, lack of sleep and skipping meals). I had a scary situation at 28 weeks of pregnancy... it was my last Saturday shift of work, I had a really full caseload for the morning and then a 3 hour, overbooked PregEd workshop in the afternoon. So yes, I guess stress was an issue! Plus my husband had arrived back from a work trip to Sydney late the night before so I'd had an interrupted sleep. I ended up with symptoms of seeing lights in my vision, not being able to find the words that I wanted to say or write, and a numb tongue. Very scary stuff! It went away after about 2-3 hours, but when I called Health Direct later they advised me to go straight to ED where I spent the majority of the next day having tests, including a brain MRI. Everything with me and the baby was absolutely fine, and they diagnosed an 'atypical migraine' - not typical because I didn't actually have a headache. But if anyone gets these symptoms during pregnancy, apparently a not-so-unlikely cause is high blood pressure associated with pre-eclampsia so immediate medical attention is necessary. Scary stuff hey?!
Exercise at this stage of pregnancy...
Check out the FitRight Instagram page @fitrightphysio for some short videos that I've posted on cardio workouts and stretching routines that I am finding helpful to keep fit and pain free at this late stage of pregnancy. The Kitchen Bench Pregnancy Stretching routine has the added benefit of spending some regular time in a forward lean position to encourage optimal foetal positioning in the lead up to labour - best if we can get the baby's spine away from our spine!
Contact us hello@fitright.physio for more information about safe exercise in pregnancy, and see the other pages of the website to book in for exercise and education courses.