Bump&Taryn - Weeks 0-14
Follow my very own FitRight journey...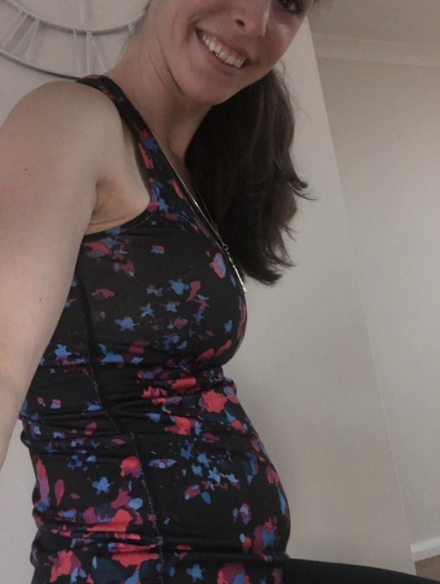 So, as those of you in the FitRight Facebook community will have seen, I have announced in the past couple of weeks that I am joining your club and going on this journey with you! Byron and I are very excited that we are expecting our first baby in October.
This seems like too good an opportunity to miss blogging about - I have spent years using pregnant friends and colleagues as models and examples to help educate about safe exercise in pregnancy and beyond, and now I can share my own journey! So, as much as I am aware that every pregnancy and postnatal experience is completely different, I am going to post regular updates about the type of exercise that I am choosing to do at different points in my pregnancy and postnatal recovery, and I hope that my experience helps to guide some others in their journey to keep Fit the Right way during the childbearing period. 
The first trimester is very different for everyone, and I was lucky enough to get through it relatively unscathed. My main feeling during this time was anxiety - this was an IVF pregnancy two years in the making, and I didn't want to do anything to jeopardise this tiny miracle growing inside of me. Weeks 4-6 were tough, with constant vague nausea and overwhelming fatigue making my long work days and teaching multiple energetic exercise classes almost impossible. However, then between week 6 and 11, I was pretty much asymptomatic - hardly any nausea, tiredness and even my sore boobs improved. Before and after the wonderful experience of seeing and hearing that perfect little heartbeat at the 8 week scan, I scarcely believed I was pregnant, and I have to admit googling 'missed miscarriage' and 'sudden lack of pregnancy symptoms - what does it mean?'. Then I started having morning vomit sessions every few days between weeks 11 and 14 and was pleasantly reassured...!
Over this time, when my energy levels were close to normal, exercise was my friend, as it had been for the previous months and years. My exercise regime of years gone by had changed dramatically over the two years of fertility treatments - doctors and a naturopath had told me that although my BMI (Body Mass Index, a height/weight ratio) was within normal limits, it was on the lower end of normal and for fertility purposes, it would be optimal to be about 3-4kg heavier. So I tried to increase my intake of good fats (avocados, nuts, olive oil etc) and I gave up high intensity exercise. In previous years, I had enjoyed training for middle distance fun runs by running 30-60 minutes through Kings Park a few mornings a week, regularly doing the stairs at Jacob's Ladder, and playing mixed touch rugby. In the last two years, all of this has been replaced by my early morning walks. These were often before or after a procedure at the Fertility Clinic - I don't know how familiar the general public is with fertility treatment, but at certain times it involves a fairly gruelling process of self-injecting multiple needles each morning, 7am blood tests and/or internal ultrasound scans a few times per week, and long (sometimes agonisingly long) waits for afternoon phone calls with results. So to start my day with a takeaway coffee and a brisk hour walk along the river and through the leafy suburbs around where I live was my emotional saviour as well as my exercise. Even when I was covered in bruises on my abdomen and my arms, fighting back tears, and my ovaries were so swollen that it hurt to walk, I always felt better afterwards and refreshed to start the day. 
So I kept this up as I could in the first trimester. I referred to it as 'taking the baby for a walk', and at my husband's request to take it easy, I went for shorter, less frequent walks. And there was no stopping for coffee - I missed the routine of this, and it wasn't that I was trying to avoid caffeine (the guidelines I was given by the fertility clinic stated that research has shown less than 2-3 caffeinated drinks per day is safe in pregnancy), I just couldn't stomach the smell or taste of coffee that I usually love so much! Now into the second trimester, these walks are getting longer and brisker again and I'm really enjoying getting back into this routine. If I develop 'twinges' of pain in my sacroiliac joints (often referred to as your 'hips', at the bottom of the spine) or my pubic bone, I will cut back on this walking but otherwise this low impact form of exercise is ideal to keep up through my whole pregnancy. 
As I advise others who ask me, the guidelines on exercise in pregnancy state that during the first trimester, and into the beginning of the second trimester, exercise can stay relatively similar to whatever you're used to doing pre-pregnancy. Because of the introduction of the hormone relaxin into my system, I am aware that my joints could be more easily irritated, and my pelvic floor more easily weakened with high impact exercise, so if I was still running or playing touch rugby, I probably would have cut back on that. However, my recent exercise regime has consisted of the usual pilates and aqua-aerobics that I teach in my job. Both are low impact, but the postnatal classes (especially the FitRight MumTime and the postnatal aqua-aerobics) are quite high intensity! My main guideline has been to recognise that my blood and oxygen is now travelling through two bodies instead of one, and so I use the 'talk test' to determine if I'm working too hard - if I can't hold a conversation (or shout out instructions to participants!) then I decrease my intensity. I'm sure many of my regular clients must have wondered why I was slacking off...! I also made sure I didn't overheat, the main change being to keep more of my body out of the very warm hydrotherapy water and lead more of the exercise class from the shallow end of the pool. 
So, until I hit the 18-20 week mark, which is probably when the baby's weight will become a more significant load on my cardiovascular system, and my rectus abdominis (six pack) muscles will probably begin to stretch apart from each other, I can continue to demonstrate and practice my usual abdominal muscle exercise program in my postnatal and clinical pilates classes, including those exercises lying on my back. Stay tuned for how I change my exercise program when these issues become a reality!
Thanks for reading, and please feel free to email or post any comments or queries you might have about your own journey to keep Fit the Right way during your pregnancy and beyond. 
Love Taryn xxx
hello@fitright.physio