'The core' is a term that is used a lot, especially now that pilates and gym classes like Body Balance are so popular. But what is it exactly?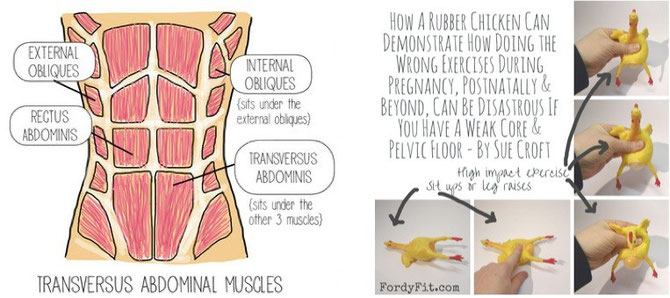 To a Women's Health and Continence Physiotherapist like myself, 'The Core' is a term to describe the supporting muscles deep inside the trunk, the Pelvic Floor (PF) Muscles and the Transverse Abdominis (TA) Muscle.
Despite popular belief, your six pack muscle (more correctly termed the Rectus Abdominis or RA) is not technically your core. Neither are the two layers of obliques underneath this. Think about the core of an apple - is it simply everything between the top and the bottom of the apple? No - it's the inner, deeper part. It's the same with our abdomen.
The outer muscles are 'power' muscles, and help to move your trunk, and while very important, they do not have as much of a supportive function as the PF and TA. In fact, while the PF and TA muscles have an upward, inward motion when contracting correctly, the RA and obliques can create a downward force in the abdomen if used incorrectly and can contribute to common gynaecological issues. 
The upward and inward action of the Core, and having optimal support in these muscles, is very important in Women's Health. Having a well-functioning PF, which is assisted by the TA, prevents the pelvic organs from descending (known as pelvic organ prolapse), prevents our bladder and bowel from leaking (called incontinence) and helps to support the lower part of the spine and the pelvis. Having Core muscles that are able to be correctly contracted, and just as importantly relaxed, enables us to go about our daily lives with no pain or dysfunction in the pelvic area. 
Recent research has shown that we can help to manage (or even better to prevent) incontinence and prolapse by exercising these Core muscles regularly, under the guidance of a Women's Health and Continence Physiotherapist.
The starting point of exercise for these muscles is to do regular pelvic floor contractions (or 'Kegels'), which involves a squeeze and a lift around the back passage, front passage and the vagina. This should not be visible from the outside of your clothes, except for maybe a subtle indraw of the lower abdomen as the TA muscles come in to assist the PF. Ideally you should be doing a few sets of these a day - some long and some quick - but there is no 'recipe'. A Women's Health Physiotherapist can give you an individualised program depending on what you can do. These exercises can be done in any position - standing, sitting, lying down - and the physio can show you how to progress this by incorporating it into your other workouts. Perhaps you could learn some pilates-type exercises to progress the basic PF exercises, or you could learn how to correctly activate these muscles when doing resistance work, and this is where 'Core training' comes into play.
I often ask clients what they think is a 'Core training' exercise. With very few exceptions, they all seem to show me a double straight leg raise exercise. I want you to try this at home - lie on your back with your legs straight, put your hand on your abdomen and lift both legs straight up to a 45 degree angle. What happens? Do the Core muscles come on with a subtle upward and inward movement? Or do the outer Power muscles come on and push outward, accompanied by a strain and breath hold?
Very probably the latter. Try a sit up, or any other exercise that has been labelled a 'core' exercise and see what the verdict is. And what do you think happens to your PF and pelvic organs when you push your abdomen outwards? It is possible that they get pushed down too, putting you at greater risk of incontinence and prolapse - see the graphic way this is illustrated with the rubber chicken in the picture above! I almost never give this straight leg raise exercise, or if I do it is as a very high level exercise after mastering all the more basic ones. 
To me, 'Core training' exercises, that I give when I am confident that someone is contracting their PF and TA correctly, are pilates exercises like lying on your back with your knees bent and lifting one leg to 90 degrees ('table top'), and then the other. Once this is mastered, then pushing one leg at a time out straight from double table top ('bug legs'). You can progress this by doing an oblique sit up in the opposite direction to the extended leg - but only by first proving that you can do the easier, slower versions without bulging outwards through the abdomen. Or on hands and knees gently contract the core muscles while extending the opposite arm and leg outwards, and relax when you return to the starting position. Then progress this to a plank as able - get someone else to put their hand on your abdomen and check if you can prevent outward bulging. And more importantly - can you breathe normally throughout these exercises? 
Sit ups and exercises with both legs out and straightened often do have their place in a woman's work out - but they are definitely NOT the starting point for Core Training.
I want you all to question what you are told in a gym class is a 'Core' exercise. Is it really working your Core correctly, or are you just recruiting your upper abdominal muscles and pushing everything outwards? Do you want abdominal muscles that can draw inwards and are flat, or abdominal muscles that push outwards? And more importantly, do you want your insides to be pushed downwards into your pelvic floor during a work out (like the chicken)? Probably not...!
Seek help from a Women's Health and Continence Physiotherapist if you wish to learn more about how to correctly exercise your Core. Get in touch with the team at FitRight if you'd like a local recommendation hello@fitright.physio. 
Pictures courtesy of www.indieberries.com, Sue Croft and fordyfit.com