Delicious biscuits that can also help to increase a low milk supply!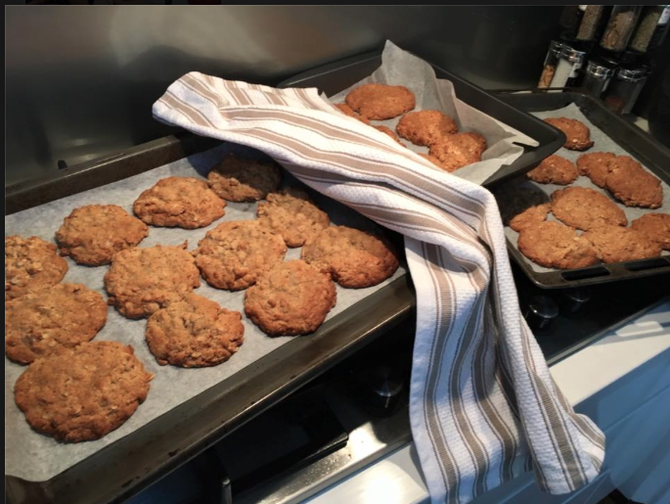 This recipe for Lactation Cookies (AKA 'Boobie Bickies') was given to me by a FitRight Mum who needed a boost in her milk production - watch out, they really work!
Although not scientifically proven, the theory behind these cookies is that three of the ingredients in this recipe - Brewer's Yeast, flaxseed meal and oats -  help to increase milk supply in breastfeeding mothers. The choc chips might not be 100% necessary, but they definitely help to create a yummy, filling snack for busy new Mums. I make these as a gift to friends who have just given birth, and occasionally I break up blocks of Oreo chocolate or something else equally as naughty instead of plain choc chips!
Of course, it is highly recommended to also speak to your midwife or lactation consultant about any breastfeeding issues, and see the other blog article about how physiotherapists can assist with certain breastfeeding issues.
Lactation Cookies (makes 3 dozen)
Ingredients:
- 1 cup butter/marg
- 1 cup sugar
- 1 cup brown sugar
- 4 tablespoons water
- 2 tablespoons flaxseed meal
- 2 large eggs
- 1 tsp vanilla
- 2 cups flour
- 2-4 tablespoons of brewers yeast 
- 1 tsp baking soda
- 1 tsp salt
- 3 cups oats
- 1 cup (or more!) of choc chips (or nuts, dried fruit etc)
1. Pre-heat oven to 180C
2. Mix together flaxseed meal and water and put to the side for a few minutes
3. Beat the butter/marg and sugar
4. Add eggs one at a time and mix well
5. Add flaxseed mixture (give it a stir) along with vanilla, beat until blended
6. Sift together the dry ingredients (except oats and chips) and then add to the mixture
7. Gently stir in the oats and chips
8. Make small balls and place on a baking sheet on an oven tray
9. Bake for 8-12 minutes
Enjoy! 
Thank you to www.mumcentral.com.au for the recipe.